Have you ever woken up one day and decided that you wanted to try a new hobby? I've done that more than once. That's how I started sewing, and now I've done it again with my latest obsession - cross stitch.
Cross stitch seems to be making a comeback as a hot new hobby, and I am super excited to see what designers are releasing. From the snarky (my favorite) and profanity-laden to traditional designs, there's basically something for everyone.
This year's batch of Aurifil Artisans have been invited to participate in challenges. Each month has a different theme, and September is all about embroidery and cross stitch! Of course that means I couldn't resist signing up to participate. Without further ado, here's my featured project:
For this project, I used a design by Subversive Cross Stitch with Aurifil's 100% cotton floss (aka Aurifloss) in colors 2692 (Black), 2250 (Red), 2870 (Green), and 2120 (Canary). To give it a bit of extra flair, I used some tiny sew-in rhinestones that I ordered from Subversive Cross Stitch's online shop. I was so happy with how the design came out that I decided to get it professionally framed! p.s. If you really want to go the extra mile when you're having something framed, I highly recommend using Museum Glass. It's a more expensive option, but it gives great UV protection and there's basically no glare.
I am a big fan of Julie from
Subversive Cross Stitch
(
WARNING
: some of the designs do have bad words, so it may be best viewed when not at work or when children are present) because her designs probably aren't what you expect to see when you hear "cross stitch." If you follow me on Instagram, you've already seen several of her patterns that I've stitched out, but I've shared a few of them at the bottom of this post for your viewing enjoyment (none have bad words).
While you can do cross stitch with a couple of different thread options, I've been using
Aurifloss
,
Aurifil
's 6 stranded 100% Egyptian cotton floss. Each wooden spool has 18 yards of floss, and all 270 of Aurifil's colors are available (with the same color number as the other cotton weights). I've been 3 strands with 14 count Aida cloth (as recommended by Aurifil), and it's worked very well. As always, I would recommend to test on a scrap piece of cloth and see if you are happy with how things look.
When I decided to try out cross stitching, I ordered a small collection called
Flossie
. The Flossie box has 5 small spools of floss in an assortment of colors that would work great to get me started on my adventure.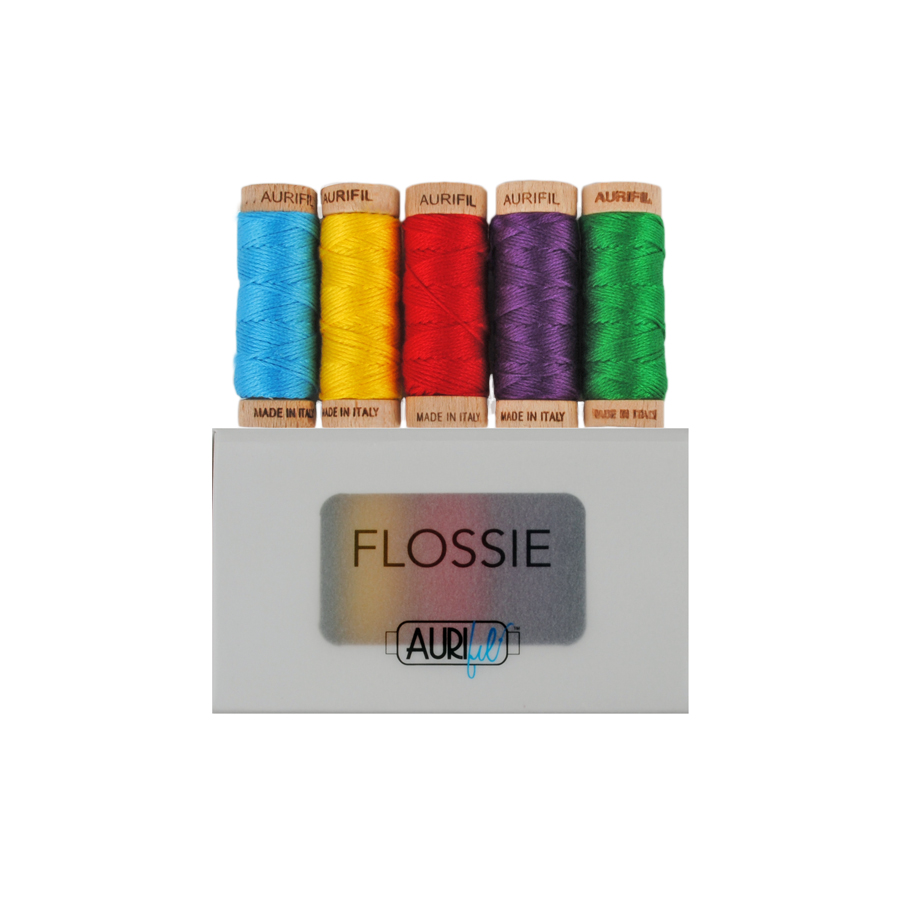 Image courtesy of Aurifil
After a few projects, I knew that I was totally hooked, so I knew that I would want more colors to choose from. Enter the
Best Selection 2018
collection. With 45 spools in a lovely range of colors, my little thread-loving heart was bursting with joy and with excitement for all of the fun things that I plan to make.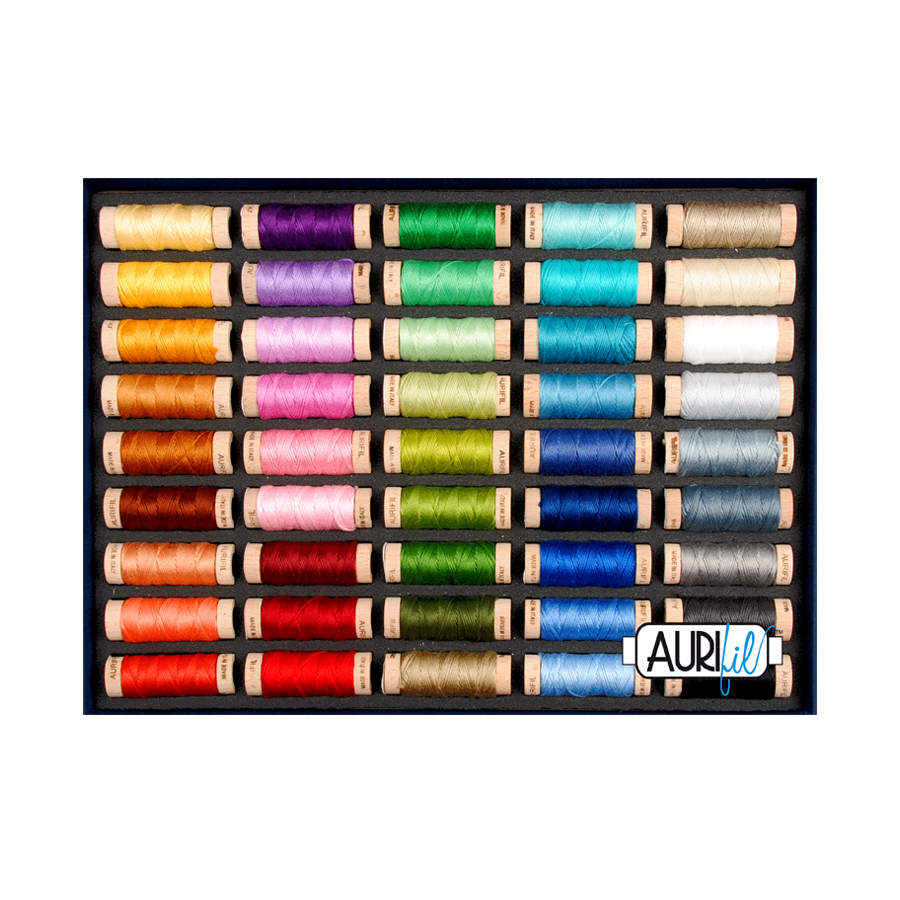 Image courtesy of Aurifil
Other than Aurifloss, my other cross stitching essentials are a
Q-Snap frame
(I mostly use the 8"), a small pair of scissors, 14 Count Aida cloth, and tapestry needles (I'm still trying to find which I like most, but I've been pretty happy with size 24 John James Tapestry Needles). You'll also want to have good light. I use a Stella Sky lamp next to my living room couch that is great for when I'm cross stitching or binding a quilt. The Daylight Company also has some good floor-standing options. I have several of their lamps that I use on a daily basis, but they are mostly tabletop which isn't ideal if you don't have a table next to the couch to put them on. ;)
Here are a few other work-appropriate cross stitch projects that I've made with Aurifloss (information on colors used is included).
Spark Joy Or Get Out pattern from Subversive Cross Stitch made w/ Aurifloss c

olors 2692 (Black) & 2545 (Medium Purple)
A Cat Is An Angel That Poops In A Box pattern from Subversive Cross Stitch made w/ Aurifloss colors

2692 (Black), 2610 (Light Blue Grey), 2423 (Baby Pink), 2140 (Orange Mustard), & 2815 (Teal)
So, that's it from me because it's time to go sew!